Looking for a fun night of comedy but don't want to travel into Baltimore or Washington, D.C.? Longtime SECU team member Irwin Weinstein has just the place for you. He recently opened Give a Hoot, the only full-time comedy club in Montgomery County. Give a Hoot is in Gaithersburg.
Give a Hoot is more than just a place to go for a good laugh. After spending years in comedy, including as a stand up performer, booking agent, and producer, Weinstein, who performs under the name Irwin Loring, wanted a place that also gave back to the community. 50% of the show's gross profits on weekend shows will be donated to local charities.
It's been a long road for Weinstein, who never lost sight of his dream, even after experiencing roadblocks that included a global pandemic. We recently caught up with Weinstein to talk about the journey he took to opening Give a Hoot.
Can you tell us a bit about yourself and your background, both with SECU and in comedy?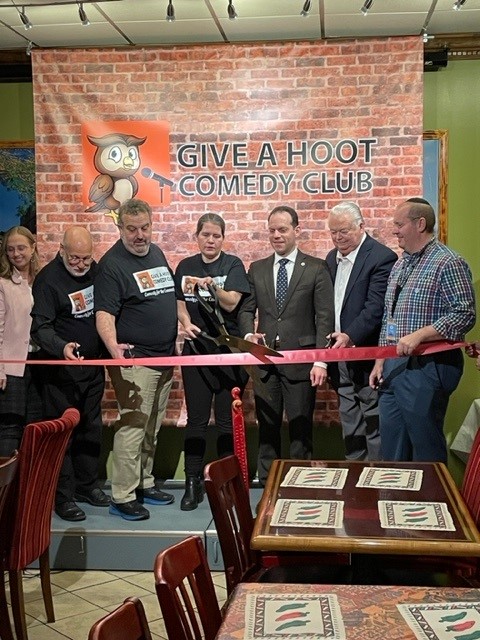 I've wanted to try stand up comedy since I was 16 after seeing a David Brenner comedy special on HBO. Of course, life got in the way, and I put that dream on hold until I was in my 40s. I actually began my comedy life in 2006 with my first open mic night, and from that moment on I was committed. I've been a nationally touring stand up comic for the last 10 years. I have performed on both coasts and far enough north to see Canada and south to see Florida. I perform under the name Irwin Loring. I have worked with Jimmy "JJ" Walker, Michael Winslow, Gallagher, and many others during my comic career.
My SECU career began in 2012 as a member of the platform staff at the Columbia financial center. After being in that position for about two years, I was promoted to Business Relationship Banker. I truly find this the most rewarding position I have held in my working career. It is such a pleasure to see businesses grow and to help others achieve their dreams and follow their passion as I do with comedy. I have been in this position for 8 years and could not imagine working in any other capacity. I have come to love the SECU family and its members. I tell people all the time that I wish to work here until I retire.
Congratulations on the opening of the Give a Hoot Comedy Club in Gaithersburg – such a huge accomplishment. Why did you decide to open a comedy club?
After years of working in the business and touring the country, I had this idea to open a comedy club in Montgomery County. I wanted to give the people in the place I lived somewhere to go for great fun and laughs without having to go into Washington, D.C., or Baltimore. I approached my best friend who is also a comedian, Ken Watter, and told him that I wanted to open a comedy club. He immediately told me that he would be an investor. We began the search for a location and other investors. This started about 8 years ago. After being turned down by many venues, we then approached an investor in real estate about buying a building. They were on board. Then the pandemic happened, and we lost the other investors. We finally were given the green light this year by the owners of La Mexicana Restaurant in Gaithersburg, and we were on our way.
What makes your comedy club a unique experience compared to others?
During our comedy career, Ken and I have produced and worked on over 50 comedy fundraisers, mostly in Montgomery County. Though I am not sure of the exact amount, we estimate that we were part of raising a quarter of a million dollars during that time. It was due to that commitment to fundraising that when we discussed opening a club that would benefit people in Montgomery County. That was where "Give A Hoot" was born. We decided that we would open a club that was "Comedy for the Community" and that all our weekend shows would benefit non-profits in Montgomery County. That became our mission. So, when people come to our club, they know that they will not only be getting some of the best touring comics to laugh along with, but are also helping their community.
That's great that a portion of all proceeds go to charity. Can you tell us about your charity partners?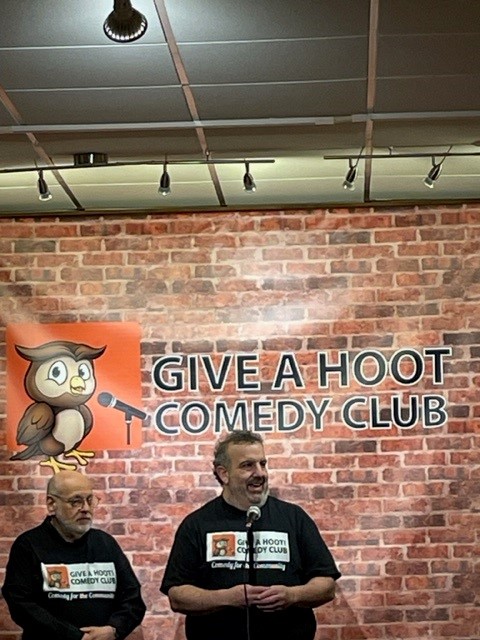 We give 50% of the club's gross profits to a non-profit partner each weekend. We only work with non-profits in our county, so the money donated benefits our community. We have already partnered with Comfort Cases, which is an organization that helps children in the foster system have the supplies they need when they arrive at a foster home. Another group we have partnered with is Stepping Stones Shelter, which helps families with temporary housing as they work to get permanent housing. A Wider Circle is another organization we support. They integrate the ground services to support people with stable housing, workforce development, and neighborhood revitalization. There are many others. I encourage people to go to our website to see other organizations we work with. We also created the Give a Hoot Charities Foundation, which helps people with emergency needs in our county. My wife Courtland is the executive director.
What kinds of exciting things do you have coming up at the club?
The club will have professional stand up comedy shows every weekend, and on Sundays we will have what we call alternative entertainment. For example, we will have murder mystery, Drag Shows, hypnotists, and so many unique entertainment experiences. This idea was to give people a wide variety of entertainment that exists beyond bands, karaoke, trivia nights, and DJ parties.
And lastly, we could all use a laugh. Any jokes you're loving right now (that are safe to print)?
It is never easy to put a joke in print as something is always lost in translation. Here is one that I have fun telling:
My son told me he wanted to date, and he just did not know how to talk to women. I told him he is lucky in today's day and age you can talk to any woman you would like. Back in ancient Greece if a man threw an apple to a woman, it would mean they were engaged. He looked and me and said, "is that the iPad one or the iPad two."
I think he has a different idea of ancient than I do.
Give a Hoot Comedy Club
www.giveahootcomedy.com
16143 Shady Grove Road
Gaithersburg, MD 20877