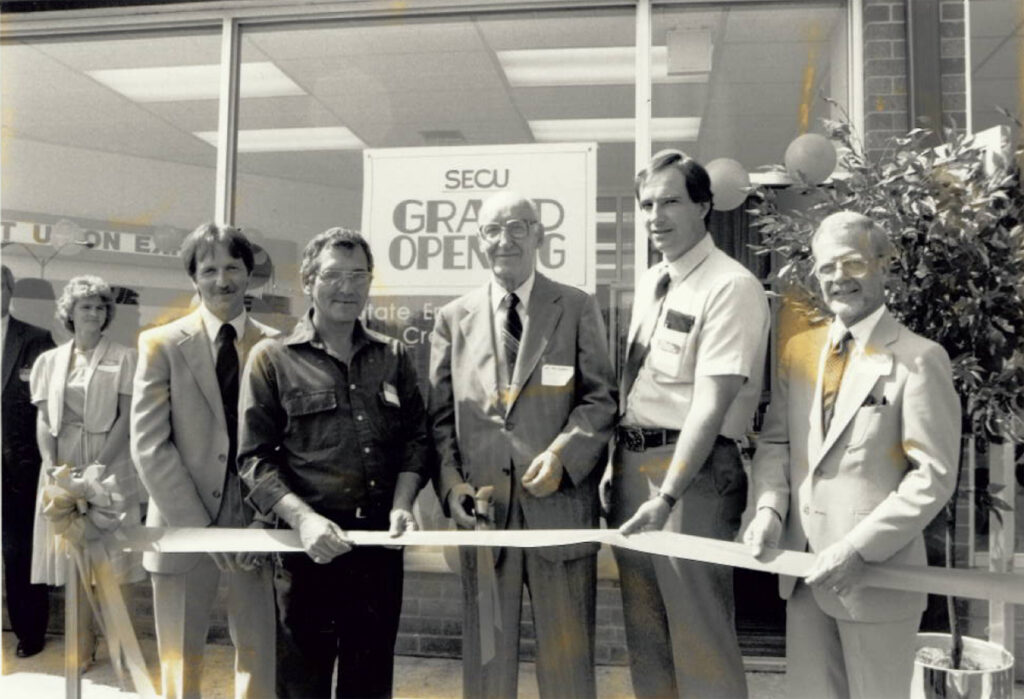 SECU began operations in October 1951 in a niche in the hallway of the Miller Building in downtown Baltimore. With only a borrowed desk and chair, credit union volunteers set up shop. By the end of the month, SECU boasted a membership of 33 and assets of $3,487. Our first member was the late Governor Theodore R. McKeldin.
For more than a year, volunteer workers greeted members and potential members within the narrow confines of the hallway office. In January 1952, SECU made its first loan – for $180. Thanks to the enthusiastic response by state employees, membership and services grew, and SECU was able to open its first official office in Spring 1953.
Servicing the ever-growing membership required SECU to expand office space and in June 1959, SECU moved to the newly constructed State Office Building at 301 West Preston Street. More time than even the most enthusiastic volunteers could offer was also needed to serve members, so SECU began hiring full-time, permanent employees to usher in the 1960s.
Rapid membership growth continued throughout the 1970s. SECU opened its first office outside the Baltimore area in Annapolis, followed closely by the College Park (now Greenbelt Road) Branch. In 1975, SECU again moved its Baltimore office to the location it now occupies in the O'Connor State Office Building. In 1979, SECU proudly enrolled its 50,000th member.
Membership and branch locations continued to increase, and in 1980, SECU moved into its newly constructed headquarters in Towson. Family membership and most of SECU's core services including Checking and Money Manager accounts, IRAs, Direct Deposit, Home Equity loans, ATMs, and credit cards were introduced during the decade of the 1980s.
The 1990s brought members enhanced convenience with the addition of new branches and ATMs, expanded office hours, Bank by Phone (the 24-hour telephone account access system), and a nationwide toll-free telephone number.
SECU now has branches throughout Maryland, and we're leveraging technology to bring members enhanced conveniences through Online Banking, Mobile Banking, and Mobile Deposit. We've also added a variety of small business banking services.
In our 70th year of service to members, we reflect on the tremendous success that has been achieved since our humble beginnings. Who would have thought that the credit union started in a desk drawer would become a full-service financial institution serving over 260,000 members and managing over $5 billion in assets? But the one constant throughout our history is our focus on our member-owners. Our vision remains to make a positive contribution to the financial well-being of those we serve.