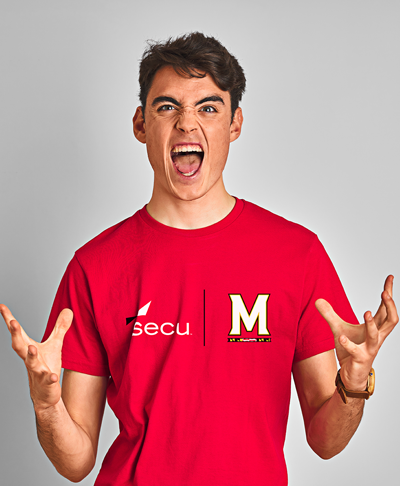 TERPS FANS, THIS ONE'S FOR YOU
GET $100* WHEN YOU OPEN A CHECKING ACCOUNT
But why stop there? Earn $50** for each friend, fan or family member you refer—up to $500** a month. With all that extra cash, we see some new UMD swag in your future.
Thanks to our new partnership with UMD, you're already eligible
New members only, offer valid 3/1/23 — 5/31/23
Must make at least 12 purchases with your SECU debit card in the first 60 days after opening checking
Must keep your account in good standing for at least 60 days
By clicking get started above, you acknowledge that you are eligible for membership at SECU as a member of the University of Maryland's faculty, staff, alumni or student body. If you don't initially meet any of the eligibility requirements to establish membership with SECU, simply make a one-time or recurring donation to the SECU MD Foundation, to help support our local communities. A one-time donation of $10 establishes your membership with SECU.
Partners for a better Maryland
As Maryland's largest credit union, it only makes sense for SECU (pronounced see-cue) to partner with the Maryland Terrapins. We share the University of Maryland's commitment to improving the lives of our state's students, athletes, and community members.
And we believe that together, we can build a stronger future for Maryland.
Why You Should Become A SECU Member
We could go on and on about why you should choose SECU and how easy it is to join the official banking partner of the Maryland Terrapins, but first, a bit about us. Pronounced see-cue, we're not a bank, but a not-for-profit credit union—a safer, smarter banking alternative with way better benefits.
SECU is Maryland's largest credit union with 25 branches throughout Maryland and 50,000+ free ATMs nationwide. Plus, you'll have full access to your accounts through mobile and online banking.
It's simple to join – just follow the steps below.

STEP 1:
Check Eligibility
Thanks to our partnership with UMD, you're already eligible.
That was easy!

STEP 2:
Choose Your Account
We offer a full suite of financial services including checking, savings, credit cards, loans, insurance, and business banking.
What you'll find at SECU.
*$100 offer valid from 3/1/23 – 5/31/23 for new SECU members that open a new SECU TotalTM Checking & Rewards account and meet the following criteria: 1) Join SECU and open a SECU TotalTM Checking & Rewards account between 3/1/23 and 5/31/23; 2) Make 12 or more qualifying purchases using your new SECU Debit Card within 60 days of opening the checking account; and 3) Keep membership/share savings and checking accounts open and in good standing for at least 60 days, with a minimum of $10 in your share savings account.  Qualifying debit purchases include payments made to third parties using your SECU Debit Card, such as Point of Sale and monthly subscription payments (i.e. bill pay and gym memberships, etc.).  All criteria must be met within 60 days of opening the checking account. SECU will credit one cash bonus of $100 to the primary owner of the new SECU checking account within 90 days of meeting the requirements. Bonus will appear as an interest adjustment. Promotional period and offer are subject to change at any time without notice. The promotional bonus is limited to one per member.  No substitutions and bonus is not transferrable.  Existing members that joined SECU prior to 3/1/23 or previously had a checking account are not eligible for this offer. Advertised bonus cannot be combined with any other offer. Membership eligibility required. Bonuses are considered interest, and may be reported to the IRS on Form 1099-INT. Federally insured by NCUA.
**Refer a friend by completing this form. Existing member and new member will receive $50 for each referral. The referred person must open a membership with SECU via a share savings account and open at least one additional account within 60 days of the referral date. The referred new member's accounts must remain open for at least 60 days. Be sure to use the email address and correct name spelling that the new member will use to establish membership when submitting the referral form.
Bonuses will be awarded via deposits to share savings accounts within 60 days of all criteria being met. In the event more than one member refers the same individual, we will award the bonus to the first member making the referral. Referred member must be new to SECU. Each member is limited to 10 referral bonuses per month. Learn more about our accounts.
You must qualify for and establish membership at SECU and be of legal contract age to apply. All accounts are subject to our normal approval process. Members and accounts must be in good standing to receive bonuses. SECU rules and regulations apply. Members who have closed their SECU membership within three months prior to being referred are not eligible.
Bonuses are considered interest and will be reported on IRS form 1099-INT. Fees can reduce earnings on the account. This offer is non-transferable and may be canceled without prior notice. We reserve the right to disqualify any referrals in circumstances where we reasonably believe they were not sent to us in good faith. SECU reserves the right to terminate the program at any time, revise program terms, or refuse bonuses upon our discretion. Ask us for details.