BUSINESS Cash Back – Fall 2021
BEST BUSINESS CREDIT CARD DEAL right now for SECU Maryland Credit Cards
with $1,000 spend in first
90 days of account opening.*
Plus
1.99% Intro APR** for 12 months on balance transfers made in the first 90 days. After that a variable APR, currently Prime + 7.49%, to Prime + 11.49%.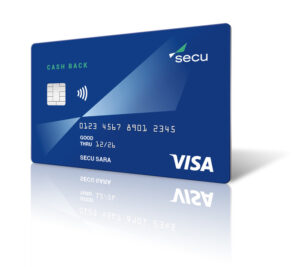 Get More Cash Back on Gas and Groceries with the SECU Cash Back Visa®
*Eligible new accounts will receive a one-time bonus offer of $150 after spending $1,000 in qualified purchases (less credits, returns, and adjustments) in the first 90 days of account opening. Accounts must be open and in good standing to qualify. Bonus can be redeemed for cash back via ACH or statement credit. Allow 4 weeks from qualifying for the bonus for the amount to post to your rewards account. Can not be combined with any other offer. Promotion offer ends April 27, 2022.
**APR=Annual Percentage Rate. Your APR may vary based on your creditworthiness. Variable rate may change after the account opening. Maximum APR for a variable rate that may be imposed is 24%. Additional terms and restrictions apply. Offer of credit is subject to credit approval. Membership is required.
Rates, Credit Card Agreements, AND Account Opening Disclosures
*** 2% Cash Back Offer Information at the bottom of the Disclosures section