We care because you care.
The SECU Cares Package was designed just for healthcare workers to give thanks for their perseverance, compassion, and bravery.
It's a care package that offers comfort, support, and encouragement. While our healthcare workers give their all with the talent and resources they have, we want to support them with what we can offer – financial wellness – that includes reduced rates, exclusive offers, and flexible hours so we are available when they need us.
Flexible Hours
You don't work regular hours, so we won't either. We offer flexible hours in our financial centers and our virtual financial center exclusively for our healthcare workers, so we are there when you need us. Simply make an appointment at a time that works for you, and we will be there for you.
If you are interested in learning more about any of the SECU Cares offers and to see if you qualify as a healthcare worker, make a virtual or in-person appointment today.
SECU Cares Relief Loan
With the impact of the pandemic and the rising cost of living, we know it can be hard to keep up, let alone get ahead. We are offering our healthcare workers a reduced rate relief loan to get you through these times. Take one less worry off of your mind with a relief loan at rates as much as 5% off current market rates.*
M.D. Mortgage Loan
Medical professionals have unique needs, so we designed a mortgage to meet those needs. Our M.D. mortgage loan for medical professional offers:
Higher loan-to-value limit vs. traditional mortgage
Lower down payment requirement
Lower cash reserve requirement
No PMI – saving thousands over the life of the loan
Jumbo loan amounts up to $2M without an increase in interest rates
Financial Wellness Reviews
Managing your finances can take time and can cause undue stress. To ease that burden, healthcare workers are invited to come in for a full financial wellness review. Let us help with:
Guidance on how to manage incoming funds
Basic budgeting
New purchases and financing
Lending opportunities
Debt management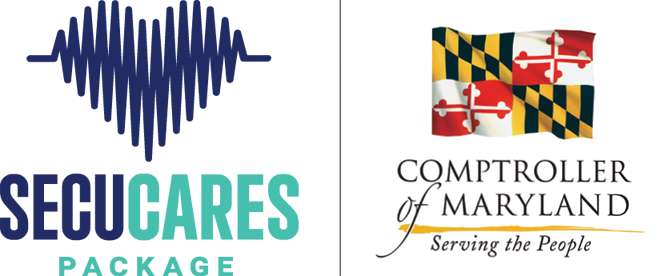 Be sure to keep an eye out – SECU will be delivering care packages to healthcare facilities across Maryland as our way of saying thank-you for everything our healthcare workers do. Your tireless efforts and dedication are truly appreciated!
Don't forget to follow SECU on social media for your chance to nominate your teammates and peers as healthcare heroes!
If you would like to have a SECU Cares in-person or virtual presentation in your office, or would like a special delivery of care packages, please contact our community engagement team at COMMUNITY.OUTREACH@SECUMD.COM.
The SECU Cares Relief Loan is designed to support front-line healthcare workers. This includes Hospital and Medical Office employees (i.e., Doctors, Nurses, and staff), Medical Laboratory Technicians and staff, Pharmacy employees (i.e., Pharmacists and staff), Continuing Care Retirement Center employees (i.e., Doctors, Nurses and staff), In-Home Health Care Providers, Physical Therapy Providers (i.e., Doctors, Nurses, Physical Therapists and staff), and others. Some personnel exclusions may apply. Subject to credit approval. Rate discount is subject to change and may be withdrawn at any time. SECU-to-SECU refinances are not eligible for the rate discount. Additional terms and restrictions may apply. Membership required. Offer may end at any time, in its own discretion and without prior notification.